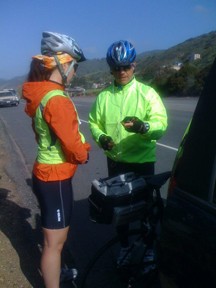 During the warmer months residents of Door County are able to take advantage of the many bike trails and back roads that are set against a beautiful backdrop, but the winter provides a bit of an challenge for those looking to stay active or train for upcoming races and rides.
John Zacek of Sister Bay, however, has found a way around this obstacle. He heads to Nor Door Sport & Cyclery's Studio three to five times a week from November through March to stay fit with their power-based indoor cycling classes.
Laura Goetzke caught up with Zacek to see how his off-season training went and what his plans are for the cycling season ahead…including finishing a cross-country bike adventure.