By Jackson Parr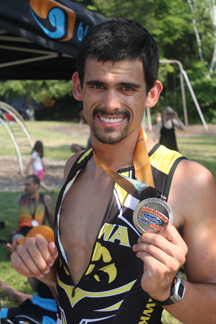 An hour bike ride through the park never fails to be enjoyable, but when that ride extends to several hours and dozens of miles, such as the upcoming Ride for Nature Century, your seat can suddenly feel uncomfortable, you curse the blister on your big toe and wonder whether you remembered to refreeze that icepack – but you can't remember because the smashing headwind is a screaming distraction.
As an avid cyclist and member of the University of Iowa cycling team, I plan on participating in the full century ride in the upcoming Ride for Nature. I may have logged thousands of miles this year already, raced all throughout the country and even shaved my legs like the pros, but a century provides a different kind of challenge.
It takes a different kind of fitness to sit five hours in the saddle and still enjoy the ride and scenery that this route offers. Although I am always training for some sort of race, this century has reminded me to incorporate some other things into my weekly riding routine.
I may be a more involved cyclist than most, but many of these things are ideas that can be adopted by all who plan on riding, whether it is the century or family ride.
The first thing to note is an idea that I credit to triathlon World Champion Chris McCormack. He states that, even if you are looking for a fun recreational ride, people would generally want to comfortably finish the century in six hours instead of seven, etc.
He always stated that an ironman triathlon is easier for the professionals because it is the age group athletes that are on the course for fifteen hours or more. I am using this ride as more of a low-intensity ride than a strict training ride, but that does not mean that I am eliminating the faster speed work from my weekly riding agenda prior to the event.
That said, once a week I hit the roads for my speed work in what is called interval training. Finding a straight open road (County Road A is a favorite), I start with 15 minutes of a fast pace where I am really putting in effort. This is a pace high above anything I could wish to hold for 100 miles, generally around 25 miles per hour for me. After 15 minutes, I slow to an easy pace and recover for 5 minutes. Repeating this pattern three times gives me a strong hour-long ride.
The problem most people have is that their "speed ceiling" is too low. This means that their body only knows how to move at a given max speed. If you take shorter periods of time to go at much faster paces, your body will generate a new ceiling in which it gauges speed, making it easier to increase your long distance pace.
Most important are the long, slow rides in my training. I generally try to find two of these each week, ranging anywhere from two to four hours. These rides serve two important functions, the obvious being an increase in fitness. By going for long rides at a low intensity, your body learns to more efficiently use energy sources and move oxygen to and from your muscles. This will help you buffer fatigue for a longer period of time as well as use the foods that you eat more effectively.
The second important function is getting your body used to sitting on a bike seat for an extended time. There is a whole different mental aspect to a century, as the saddle feels less comfortable with the passing of each slow mile. The more accustomed to long rides you can be, the better the century will feel. After all, we are all out there to enjoy ourselves; aero-carbon frames and mountain bikes alike.
Between these days perhaps I find another shorter ride or supplement the riding with low impact swimming to ease the joints or yoga to release the lower back and hips (problem areas for most long distance cycling). In the end though, a century must be accepted as a long day on the bike. The weeks prior to the ride are spent to make sure it is an enjoyable one.