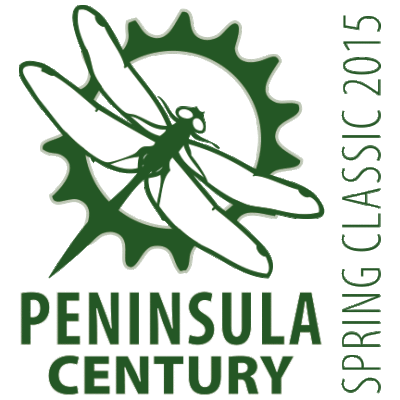 Door County's spring century bicycle ride has a new name!
The Ride for Nature is now the Peninsula Century Spring Classic. The ride, which has brought in more than $45,000 for the Ridges Sanctuary under the management of the Peninsula Pacers since 2010, is now one of two Peninsula Century rides, joining the Fall Challenge in Sister Bay, held Sept. 19, 2015.
The move is part of the Peninsula Pacers' restructuring of the 26-year-old June ride in Baileys Harbor, and became necessary after the Ridges Sanctuary determined it could no longer provide the resources to support the growing event.
"For 26 years, the Ride for Nature has been a highly anticipated Baileys Harbor event and an important fundraiser for The Ridges Sanctuary," said Ridges Director Steve Leonard.
"Since 2010, The Ridges has partnered with the Peninsula Pacers to present the community-based event, making it a memorable experience for riders as well as a continuing benefit for The Ridges.  In anticipation of the staff and volunteer resources that will be required to support the opening of our new visitor center in May of 2015, The Ridges has announced that it will not hold a Ride for Nature next year."
In five years organizing and promoting the ride, the Pacers have grown the ride from 325 participants in 2009 to almost 900 in 2014 by promoting the event and the Ridges mission in publications throughout the region and online.
The Spring Classic will be held on the same day as the Ride for Nature has for the last 26 years – the Saturday of Fathers Day weekend, June 20, 2015. The event will once again be held in conjunction with theDoor County Beer Festival. The ride starts and ends at the Baileys Harbor Town Hall Park and will provide riders with a scenic early season ride featuring routes through the middle of the peninsula.
The Spring Classic brings a new name and charity partner, but the same great ride and dedication to helping and celebrating the community, said Pacers co-founder David Eliot.
"In 2015 the Peninsula Century Spring Classic will partner with the Door County Community Foundation andGive Door County." Eliot says. "It has been a pleasure working with the Ridges Sanctuary for the last five years. We're tremendously proud of what we were able to accomplish together. But we fully understand the demands their staff and supporters face in opening their spectacular new facility."
Registration for the ride opens February 1, 2015.